Evostrix Web Hosting
Address: 7 Kersfield Road
Putney sw15 3hn
United Kingdom
Phone:+44-20-3695-1294 (Sales)
Fax:N/A
Evostrix Professional Web Hosting plans provide you with a fantastic value for your money. The SSD–equipped servers will help your web sites function far better than those of the competitors. In addition, you can make your sites considerably quicker with just a couple of mouse–clicks with the web accelerators included in our easy–to–navigate Control Panel, and maintain your data secured with the ZFS–based file storage and Mod Security firewall implemented on our servers. You won't be disappointed with our service or reliability.
We have Real 24/7/365 customer support team whose average response time is less than twenty minutes.
To top it all, our hosting service is 100% risk–free and we offer a 30–day money–back guarantee.
We offer now FREE 30-day trial period For All Web Hosting Packages, during which you can evaluate our services at your leisure. Sign Up today and get your 30 day trial free with Evostrix Web Hosting: Try for Free. No Credit Card Required.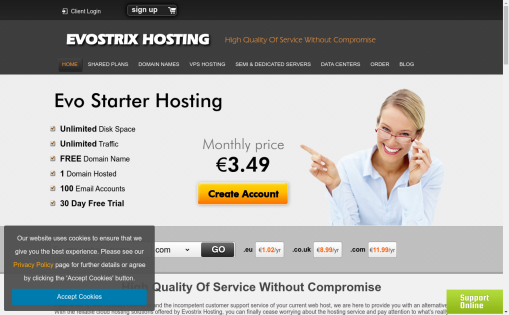 Shared Hosting starting at €3.25/mo
Domains: 1 Disk Space: Unlimited Bandwidth: Unlimited Control Panel: Yes Money-back Guarantee: 30 day
WordPress Hosting Plan Unlimited Disk Space Unlimited Traffic FREE Domain Name 1 Domain Hosted 30-Day Free Trial
VPS Hosting starting at €12.99/mo
1 Core 1 GB RAM 30 GB Data Storage 1 TB Data Transfer Full Root access
Dedicated Servers starting at €79.99/mo
Evo Xeon 1 CPU: Xeon E3-1240L V5 Disk Space: 2x240 GB SATA SSD Monthly Traffic: 10 TB 2.10 GHz (4 cores) Upgradeable Storage: No RAM: 16GB