EXELNODE
Address: Dhaka
Dhaka
Bangladesh
Phone:N/A
Fax:N/A
All web hosting services are provided by EXELNODE. Our company aims at providing a large number of professional services in the following fields of activity: web hosting, domain registration and quality customer support.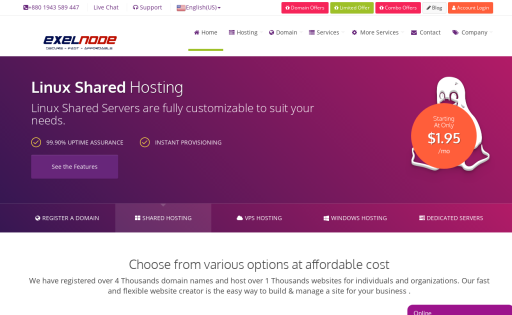 Shared Hosting starting at $2.99/mo
Domains: 1 Disk Space: 5 GB Bandwidth: 200 GB Control Panel: Yes Money-back Guarantee: 30 day
Get fast and secure web hosting for small and medium sites! Robust & Scalable Shared Hosting. Linux Shared Servers are fully customizable to suit your needs
Reseller Hosting starting at $29.95/mo
RESELLER HOSTING Share processes and data securely on a need to know basis without the need for reconciliation it combines a permissione.
VPS Hosting starting at $10.00/mo
The network infrastructure of EXELNODE is top class.EXELNODE is served in a first-class network infrastructure equipped with modern quad processor servers, Uninterruptible Power Supply / Diesel Backup Generator and mirrored storage backups.
Dedicated Servers starting at $99.00/mo
Dual Intel L5520 8 CPU cores 16GB 1TB SSD 10TB