EyM Multiservicios S.A
Address: Cartago
La Union
Concepcion 40501
Costa Rica
Phone:506-89302980
Fax:N/A
Costarrican web host, all in one solution, web desing, hosting, SEO, we will keep your site up to date.
Unlimited shared web hosting, VPS, dedicated servers, SSL and much more.
We have the usual unlimited plan, plus, we can take care of your entire site, and set a SEO plan for you, so you just need to worry about your bussines and not your web site
Price shown here are on a montly basis, if you go for a longer periodo, your price will be even cheaper.
Use code "hostsearch" for extra 20% off in shared hosting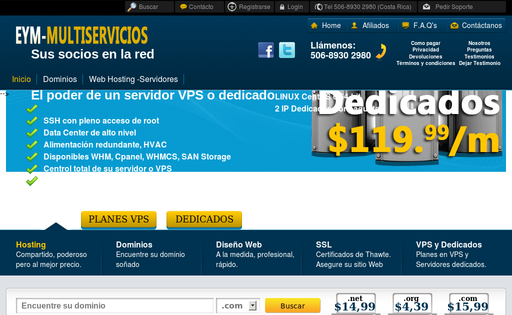 Shared Hosting starting at $1.99/mo
Personal Hospede 1 web site Espacio ilimitado Transferencia ilimitada FTP, Mysql, PHP, Antivirus, CGI: Perl, Python, Ruby 5 Cuentas de correo Cpanel con Softaculous Back up diario
VPS Hosting starting at $39.99/mo
VPS 1 CPU 1.47 GHZ Espacio 40 GB, Transfer 800 GB Memoria RAM 1 GB Dominios y sub dominios ilimitados Cuentas de correo ilimitadas SSH Root access 3 IPs dedicadas
Dedicated Servers starting at $129.99/mo
Dedicado 1 CPU Xeon E3-1220LV2 2 Cores Espacio 1000 GB, Transfer 5000 GB Memoria RAM 4 GB Dominios y sub dominios ilimitados Cuentas de correo ilimitadas SSH Root access 2 IPs dedicadas