eZeDomain Web Hosting
Address: Reliable Website Hosting
SSL Encryption
Global Domain Name Registrar 0 Encrypted Web Hosting
United States
Phone:+1-866-841-6141
Fax:Secure Web Hosting
eZeDomain.com is a Global Domain Name Registrar Registering all International Domain Name Extensions, including Secure Web Hosting, Secure Domain Hosting, Register Domain Names, Reliable Website Hosting, Easy Domains, Domain Registrations, DNS Systems, Domain Renewals, Shared Hosting Plans, Virtual Private Servers, Semi-Dedicated Servers, Dedicated Servers, Encrypted Web Hosting, Cheap Domain Hosting, SSL Encryption, Free Domain Names, Cheap Web Hosting, Whois Protection, and Cloud Web Hosting.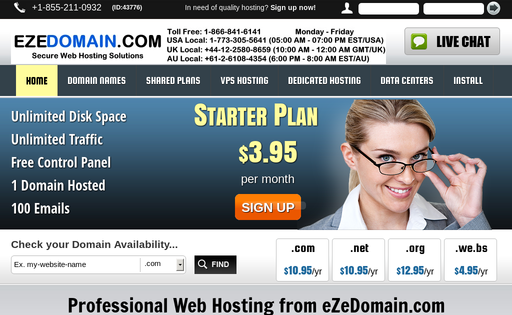 Shared Hosting starting at $12.95/mo
Domains: 1 Disk Space: Unlimited Bandwidth: Unlimited Control Panel: Yes Money-back Guarantee: 30 day
UK Shared Hosting If you are planning to build a web presence targeted at customers from the United Kingdom, then you should definitely select a United Kingdom-based data center facility to achieve faster web site loading speeds. We partner with one of the most famous UK datacenters, which is located just a couple of miles away from London. The UK data center option is available with all web hosting plans of ours. Simply select your web hosting plan and the UK datacenter facility and we'll activate your hosting account in minutes. You will get our in-house developed hosting CP as well.
VPS Hosting starting at $28.00/mo
An Intuitive Control Panel Our hosting Control Panel is very quick, amazingly responsive and very user-friendly. You will have complete authority over your website(s) and domain(s). View Demo A 24-7 Customer Support Service Our technical support personnel is here to reply to all your questions 24/7/365. We have a 60-minute response time guarantee, so you no longer need to wait for hours on end for a support team representative to answer - they will get back to you in less than one hour.
Dedicated Servers starting at $80.00/mo
Xeon E3 v3 $ 80.00 /mo Xeon E3-1240L V3 2.00 GHz (4 Cores) 8 GB DDR3 RAM 2x480 GB SSD HDDs 10 TB Data Transfer