EZProvider Networks, Inc.
Address: 458 - 280 Nelson Street
Vancouver V6B2E2
Canada
Phone:888.397.7853
Fax:N/A
At EZP.net, we've been offering the best value in fully managed & fast hosting since 2000; our pricing is simple and includes 'extras' that other hosts charge for. We use cutting edge hardware and the best software to power our clients websites.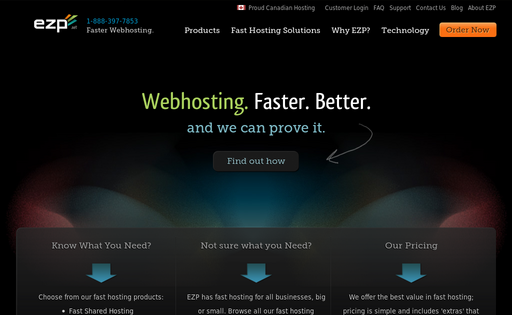 Shared Hosting starting at $9.99/mo
Domains: Unlimited Disk Space: 10 GB Bandwidth: Unlimited Control Panel: Yes Money-back Guarantee: 30 day
Shared 1 Dedicated IP Address 10GB SSD storage Resource limits: 1750mhz cpu, 512MB ram Unlimited Domains Unlimited Emails
VPS Hosting starting at $25.00/mo
VPS 1 CPU Cores: 1 vCPU Memory: 1.5 GB Disk: 40 GB $25 / month
Dedicated Servers starting at $219.99/mo
Dedicated Intel E3 1241 V3 xeon CPU 16 GB RAM 1 TB SATA 1000 GB bandwidth $219.99 / month