Fiberstack Inc.
Address: 275 Montpellier
Montreal H9G3A5
Canada
Phone:18554234237
Fax:N/A
Fiberstack is a cloud provider based out of Montreal, Canada. The team has over 8 years of experience in the hosting industry. Fiberstack offers affordable and reliable Cloud VPS Hosting and Content Delivery Network at prices you will love.
SSD-powered cloud servers will speed up your site like never before. Combined with our PayGo CDN Hosting you can establish a global presence with CDN locations in over 65 countries.
Fiberstack's scalable and resilient cloud infrastructure is a happy medium in the hosting market, offering affordable solutions to power your website and ultimately your business.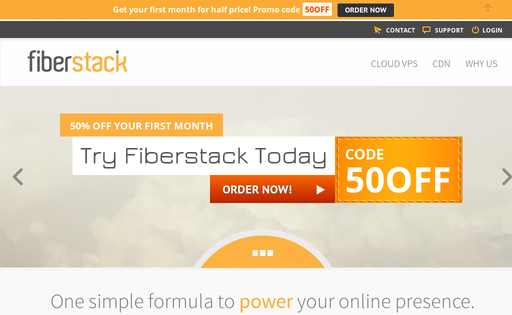 VPS Hosting starting at $10.00/mo
Basic Cloud VPS Hosting Powered by SATA RAID 10 Virtual SAN Arrays Perfect for Medium Disk I/O applications like web servers Self-Healing and Redundant Cloud Hosting Architecture Many flavors of Linux Linux VPS Hosting and Windows Windows VPS Hosting OS available Get started instantly for only $10 per month!