File Sanctuary Ltd
Address: Boho One
Bridge Street West
Middlesbrough TS2 1AE
United Kingdom
Phone:+44 20 7183 7813
Fax:N/A
We keep your business online and we make sure you stay safe online.
From hosting and servers, to antivirus and backup for your office, we help you protect all that you do on the Internet.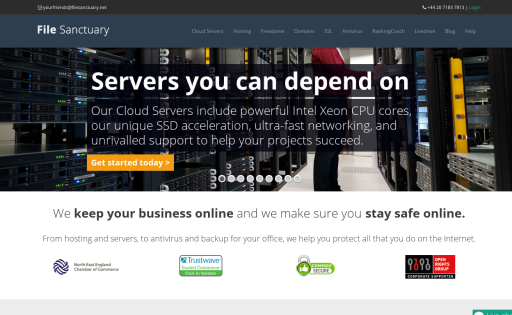 Shared Hosting
Extremely easy to use Our web hosting platform is powered by the award winning Plesk control panel. Plesk is designed to be easy to use for beginners and experts alike, and is just as easy to use on your phone as it is on your laptop.
Cloud Hosting
Choose Linux... Our PV Cloud Servers provide highly tuned performance for Linux. Choose from Ubuntu, Debian, CentOS, Fedora, OpenSUSE, or Slackware. Windows Server... Our HVM Cloud Servers can run Windows, Linux, FreeBSD, or any other OS. We offer Windows licenses on a month-by-month basis: no more expensive upfront licensing costs! or FreeBSD! We're also proud to support FreeBSD, an operating system with true UNIX heritage, trusted by many for it's very high standards of documentation, security and reliability!