Final Host Internet Services
Address: 110-174 Wilson Street
Victoria V9A-7N7
Canada
Phone:250-598-0058
Fax:413-473-6546
Our quality Web hosting service offers today's technology at affordable prices! Final Host specialize in Web Site hosting, e-Commerce, database, security, real audio/video, and a full range of services available for hosting Web content. Whether you're launching your first site, building a Web presence, or managing a thriving e-commerce site, you can count on Final Host to be there for you ! Our trained, experienced staff offers fast, courteous LIVE technical support and years of experience.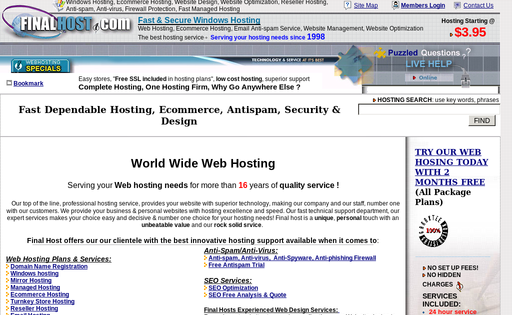 Shared Hosting starting at $3.95/mo
Domains: 1
Scalable, Hosting and Ecommerce Plans For Smart Business Our Web Hosting Service Experience, & Customer Service Excellence Will Impress You! webspace ACCOUNT ACTIVATION IN MINUTES webspacewebspace 2 MONTHS FREE WITH WHEN PAYING ANNUALLY webspace NO SET UP FEES Our support staff are employed, trained and managed internally. Final Host does not assign support tickets that make you wait inline, but simply, treat, customize, and provide our clients with fast, personal support that offer our customers with essential client care - this is one identifying feature that sets us apart from all our competitors. While our competitors hosting may start out less than our hosting per month, by the time you add all of the features you want, "a la carte", it almost always will exceed our hosting - a costly, expensive numbers game - an additional expenditure to you ! Our hosting plans are "client developed" and benefit driven ! Final Host ensures, exceptional quality, dependability and superior, same day, expert support for your website serving needs, guaranteed!