FirstHost.lv
Address: Brīvības gatve 214M-2
Riga LV-1039
Latvia
Phone:+ 371 29791232
Fax:+ 371 67282135
Our company operates in sphere of IT solutions since 2005, and in this time has reached serious results, having got trust of many of clients (including the known companies).
Why do people choose us:
Reliability of our company.
More than 5 years of work experience in IT sphere.
Availability of provided services.
The best technical solutions and technologies.
We have all the necessary licenses and certificates.
99.9% uptime.
Low prices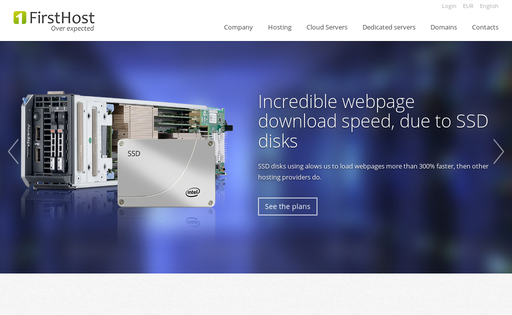 Shared Hosting starting at €2.06/mo
Domains: 1 Disk Space: 5 GB Bandwidth: Unlimited Control Panel: Yes Money-back Guarantee: 30 day
Ordering hosting, you receive: Fast SSD storage Backup Full isolation 24/7 support Website and online store builder CMS by one click
VPS Hosting starting at €5.21/mo
Disc up to 50TB SSD RAM up to 768GB Internet up to 40 Gbit/s
Dedicated Servers starting at €99.77/mo
2 x Intel Xeon X5650, 2.66GHz, 12 cores, 24MB cache 48GB 2 x 240GB SSD / 2 x 2TB SATA