Flexservers
Address: Willem Buytewechstraat 40
Rotterdam 3024 BN
Netherlands
Phone:+31 (0)10 - 4482290
Fax:N/A
Flexservers - the specialist in virtual servers
Flexservers has almost a decade of experience in virtual and dedicated servers. With our focus on continual innovation, competitive costs, optimum quality and service, Flexservers is one of the most renowned hosting companies in the Dutch market.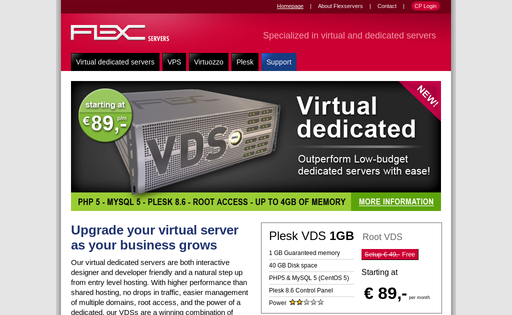 VPS Hosting starting at €14.95/mo
Shared hardware, maximum value! Fed up with managing multiple shared hosting packages but not ready for a dedicated server? The Flexserver Virtual Private Server (VPS) is an affordable, scalable solution to host multiple sites. When traffic is growing and you need additional backup, file storage or root access to configure and run new programs, Flexservers VPS is a great choice.
Dedicated Servers starting at €89.00/mo
Our virtual dedicated servers are both interactive designer and developer friendly and a natural step up from entry level hosting. With higher performance than shared hosting, no drops in traffic, easier management of multiple domains, root access, and the power of a dedicated, our VDSs are a winning combination of performance and scalability.