Flipperhost
Address: The Old Bag Factory No:9,1100 Chicago Avenue,IN, 46528 USA
0
United States
Phone:N/A
Fax:N/A
About Flipper Host
FlipperHost is a privately owned and operated global hosting provider incorporated in 2009 as a sub company of Invest Lion Group. FlipperHost eventually grew to become a full-service provider in, shared web hosting, reseller hosting, dedicated servers, Virtual Private Servers (VPS), Windows VPS, VDS and KVM servers as well as complex hosting solutions and has grown to become one of the well known Hosting Solution providers Worldwide.
As we grew, we began expanding at multiple locations with multiple datacenters to our advantage as we were able to segregate facilities from one another to provide redundancy, resiliency, and performance. As a result Flipper Host is now available in Dallas (Texas), Miami (Florida), Atlanta (Georgia), Los Angeles and Amsterdam
Flipper Host is staffed 24/7 by industry professionals with years of IT experience, insuring you the highest level of service and satisfaction possible.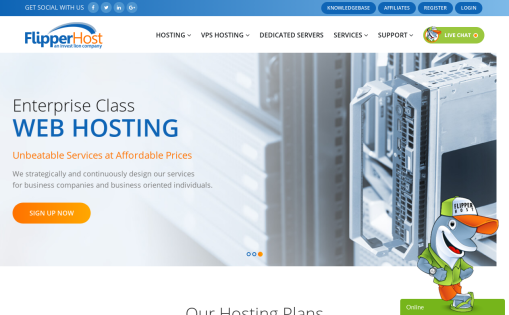 Shared Hosting starting at $2.99/mo
Domains: 1 Disk Space: 20 GB Bandwidth: 1000 GB Control Panel: Yes Money-back Guarantee: 30 day
RAID-10 SAS/SSD Servers at multiple locations along their flawless networks.
Reseller Hosting starting at $4.99/mo
Our fully managed Shared Web hosting solutions are instantly upgradable & downgradable. We can simply upgrade or downgrade your web hosting plan instantly at anytime, without any downtime nor data loss. Security, Stability, Performance and Control over your Web Site proudly provided by Flipper Host.
VPS Hosting starting at $29.95/mo
OpenVZ Virtualization Type 60GB RAID-10 Disk Space 2048 MB Dedicated RAM 4096 MB Burstable to RAM 6000 GB Premium Bandwidth 4 X Dedicated CPU Cores 300MbpsPublic Uplink FREEcPanel/WHM Included FREESolusVM Control Panel Included FREEScript Installations Included Full Root / SSH Access Fully Managed
Dedicated Servers starting at $99.00/mo
Intel Core2Duo E5200 Dual Core 2.50Ghz, 2M Cache, 800FSB 8 GB RAM DDR2-667/800 1TB SATA 10,000RPM /29 (5 Usable) 100 MBs Uplink, Unmetered 3Gbps