FlokiNET Ltd.
Address: Austurstræti 17
Reykjavík 101
Iceland
Phone:+40734325073
Fax:N/A
FlokiNET was established in 2012 in Iceland to provide a safe harbor for freedom of speech, free press and whistleblower projects. We operate data centers in Iceland, Romania and Finland.
Us at FlokiNET value your privacy, as well as your freedom of speech and guarantee that we will always offer our services without requiring personal information! We also never give third parties access to ANY of your data. FlokiNET provides autonomous, incorruptible and flexible solutions, optimized to help you to spread your ideas freely!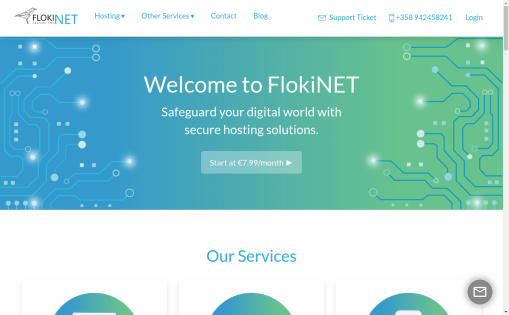 Shared Hosting starting at €2.99/mo
Domains: 1 Disk Space: 5 GB Bandwidth: Unlimited Control Panel: Yes Money-back Guarantee: 30 day
5GB SSD Webstorage 2 MySQL Databases 1 GB RAM 100% CPU (lve) 20 Cocurrent Requests (ep) Weekly Backups Unmetered Traffic DDoS Protection
VPS Hosting starting at €7.50/mo
1 CPU Core 1 GB Ram memory 20 GB SSD Storage 1Gbit Uplink / 1 TB Traffic 1 IPv4 & /64 IPv6 KVM Based DDoS Protection (1Tbps+) Virtual IPMI - Remote Control Console
Dedicated Servers starting at €79.00/mo
HP Proliant DL 120 G7 Intel Xeon E3-1240 Quad Core, 3.30GHz, 8MB cache (7955) 16 GB ECC RAM 2x 2TB SATA 7.2K 1Gbit / 10TB 1x IPv4 (Up to 32) & /64 IPv6
Colocation starting at €59.00/mo
1Gbit Uplink 10 TB traffic Included 1 IPv4 + /64 IPv6 100 kWh Power incl DDoS Protection