FlotHost
Address: Lesna
Warsaw
Poland
Phone:N/A
Fax:N/A
Flothost offers the fastest KVM VPS Hosting. KVM VPS in Latvia, Czech Republic, Bulgaria, Poland, Romania, Moldova, Ukraine and USA. Linux and Windows KVM VPS server hosting.
Our hosting services are running at a global scale. Choose and deploy your services to any of data center regions around the world.
Our VPS and dedicated servers are created to suit any budget. Also, you can save on your hosting with long-term payments.
From operating systems and managed servers to add-on solutions, FlotHost helps you accomplish more and reach your goals.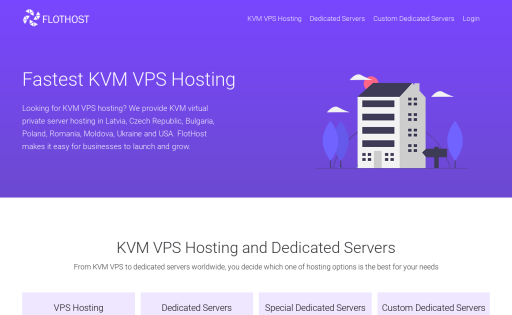 VPS Hosting starting at €19.00/mo
2 GB RAM 12 GB SSD 2 Cores 1 Dedicated IP Unmetered Virtualization KVM All Popular Linux OS Windows (Add-on) cPanel (Add-on)
Dedicated Servers starting at €149.00/mo
32 GB RAM 2 x 1000 GB SATA Drives 4 Cores Unmetered Free Setup All Popular Linux OS Windows (Add-on) cPanel (Add-on)