Forex Cheap VPS
Address: 38 rue Medoc Laval, QC H7N 1Y8

Canada
Phone:+148628755
Fax:N/A
We, Forex Cheapvps , are committed to protecting any data that we collect concerning you. By using our services you agree to the use of the data that we collect in accordance with this Privacy Policy. The purpose of this Privacy Policy is to enable you to understand what personal information of yours is collected, how and when we might use or share your information, and how you can correct any inaccuracies in the information. This Privacy Policy also explains our online information practices and the choices you can make about the way your information is collected and used.
Who We Are
forexcheapvps provides cloud-based windows vpssolutions, and related products and services, to businesses, individuals, non-profit organizations and others.
We collect the following types of information from you to provide you with the products and services you purchased and for the purposes described below. We may collect any or all of the information via both automated means such as communications profiles or cookies. Personal Information. The personal information we collect depends on the type of service, support, or sales inquiry, and may include your name, address, telephone number, fax number and email address, dates of service provided, types of service provided, payment history, manner of payment, amount of payments, date of payments, domain name, credit card or other payment information.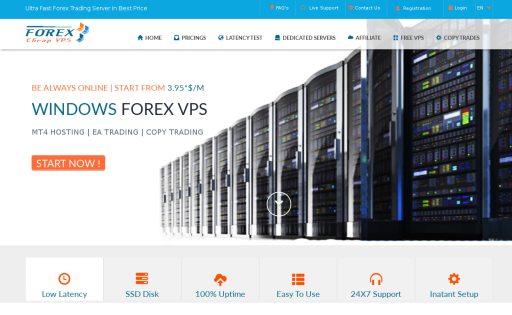 VPS Hosting starting at $9.99/mo
Starter 1 GB RAM 1 CORE 20 GB Disk Space 1 TB (Monthly)
Dedicated Servers starting at $90.00/mo
Forex is one of the largest and potential financial markets, that demands the right server and latency optimized network. Our servers are located in major cities like New York, London, Amsterdam, Montreal, and France. FCV covers you on all fronts. It's premium-network provides 0.5 MS to 2 MS of latency to most preferable locations. We guarantee 100% uptime with the latest hardware technologies. These hardware systems are up to date and can be customized to fit your needs.