FutureQuest, Inc.
Address: 100 W Lucerne Circle
Orlando FL 32801
United States
Phone:1-877-QuestLine
Fax:N/A
When you are ready to host your web site where quality is priority, technical a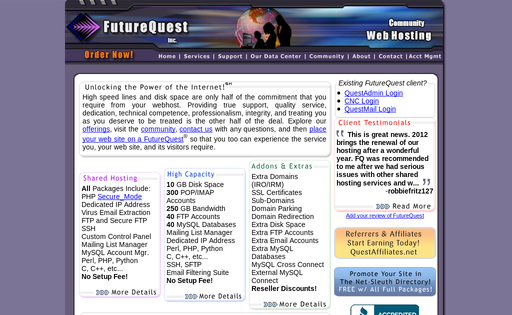 ptitude is required, redundancy is exceeded, and personal service is the foundation for everything that happens, you are ready for a FutureQuest - Since 1998!
Shared Hosting starting at $8.95/mo
Domains: 1 Disk Space: 3 GB Bandwidth: 70 GB Control Panel: Yes Money-back Guarantee: 30 day
3.0 GB Disk Space 70 GB Transfer/Bandwidth 5 FTP Accounts 15 MySQL Databases MySQL Account Manager CGI, PHP, Python Enabled! Secure_Mode (allows PHP Safe_Mode to be Off) Dedicated IP Address Full Access via FTP & SSH 20 POP/IMAP Email Accounts Complete Mailing List Manager Powerful Email Filtering Suite Automatic Virus Email Extraction Exclusive & Powerful Control Panel FeatureQuest "App Manager" NEW! Plus much much more! NO Setup Fee! No Multi-Month Pre-payment required!