Gaiacom, L.C.
Address: 468 N Camden Dr
Suite 200A
Los Angeles CA 90210
United States
Phone:N/A
Fax:N/A
FXVM provides ultra-low latency hosting solutions for forex trading and other financial instrument traders. Our forex VPS hosting services are located at Equinix in New York and London, and utilize Windows Server to maintain continuous platform stability. VPS hosting is recommended for MetaTrader 4 and other trading platforms, and is compatible with all brokers, all expert advisors and robots, and all locations.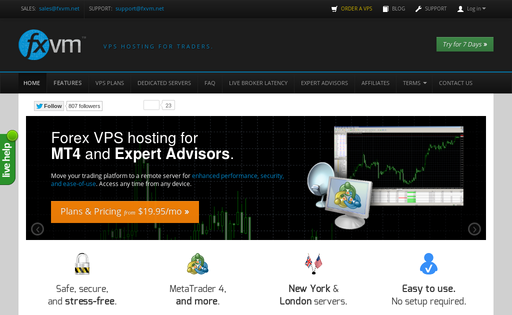 VPS Hosting starting at €16.00/mo
Rock solid, low latency trading servers at an affordable price. It's critical your expert advisors and trading robots perform their tasks without a hiccup. That's why we never share your resources on our servers. This means you get exactly what you pay for! Furthermore, we make sure you're as close to your brokers server as possible, so you can execute your trades at lightning speeds. FXVM's networks do not host websites, rich media, or other applications that pose a risk to maintaining rock-solid connectivity. Our service provides hosting for traders and financial applications only.
Dedicated Servers starting at €169.00/mo
More robust, Higher performance. Whether your software requires a lot of computing resources or you have many platforms, a Dedicated Forex Server keeps things running smoothly and efficiently. Both enterprise-grade server hardware, and enterprise security standards help to ensure the complete security of your hosted data and applications.