Galaxy Host
Address: Box 1935
Twain Harte CA 95383
United States
Phone:(209) 586-1250
Fax:(209) 586-1250
Anytime Money Back Guarantee!
Small hosting company with personal service that has a big focus on helping to educate newcomers to the endless options for building and managing your own website. Serving local business owners with 99% up time and catering to the small portable sawmill operator. We offer unlimited phone support to help you get up and running with the website that is best suited to your needs.
For your convenience we offer one click installations of all the popular programs with both Simple Scripts.
If you want to publish your own website sign up for one of our "Web Hosting Packages." Pay a yearly fee of $35.00 and receive a free domain name. Our Moonlight Special will provide plenty of disk space and bandwidth for most all business and personal sites leaving more than enough extra to support blogs, forums,stores with shopping carts, mailing lists. news letters and more.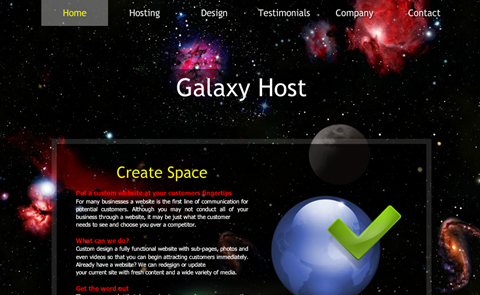 Shared Hosting starting at $2.99/mo
* Web Hosting * C Panel * 5 email accounts * Free site builder * 5 databases * 1536 MB disc space * 12288 MB bandwidth