GigaTux
Address: 5 Valentine Court
Crownhill
Milton Keynes MK8 0HA
United Kingdom
Phone:+44 1908 888023
Fax:N/A
GigaTux is a rapidly growing dedicated hosting company, launched in February 2007. GigaTux presently has high powered servers situated in a secure location in Maidenhead, just outside London, as well as Germany and the USA. All locations offer very impressive connectivity, with a very low latency, high bandwidth connection.
GigaTux believes in offering an honestly priced service, with no compromises on important aspects that matter to you: reliable storage, quality bandwidth and excellent customer service.
GigaTux is an agile company and is able to offer decent packages to meet your needs, fully customisable by ourselves. All support is based in the UK with our main offices in Milton Keynes and London, not that regional location need matter too much when there is a top-class, competent customer service to back our networking services!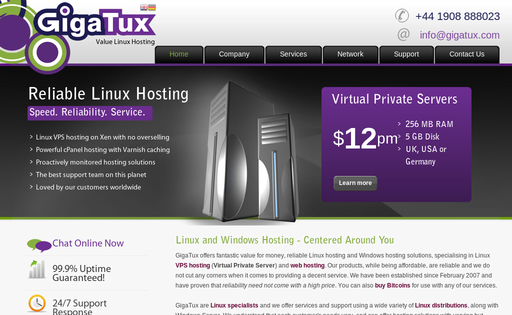 Shared Hosting starting at £1.99/mo
Domains: 1 Disk Space: 0.5 GB Bandwidth: 5 GB Control Panel: Yes Money-back Guarantee: 30 day
GigaTux provides true quality cPanel shared hosting, designed for ultimate performance and reliability. We with all our services, we proactively monitor to ensure that your sites respond with no delays. Our packages allow pretty much everything you would expect, including the use of MySQL, PHP, Perl and many more languages and tools. This also comes with free mail access with excellent spam protection.
VPS Hosting starting at £7.99/mo
Package RAM Storage Bandwidth Price* Uno L 128 MB 5 GB 50 GB £7.99 Duo L 256 MB 15 GB 100 GB £9.99 Trio L 384 MB 22 GB 150 GB £12.99 Quad L 512 MB 30 GB 200 GB £14.99 Pro L 768 MB 45 GB 300 GB £21.99 Enterprise L 1024 MB 60 GB 400 GB £28.99 Tycoon 1.5 1536 MB 90 GB 600 GB £40.99 Tycoon 2.0 2048 MB 120 GB 800 GB £51.99 Tycoon 3.0 3072 MB 180 GB 1200 GB £69.99 Tycoon 4.0 4096 MB 240 GB 1600 GB £87.99 Tycoon 5.0 5120 MB 300 GB 2000 GB £104.99 Tycoon 6.0 6144 MB 360 GB 2400 GB
Dedicated Servers starting at £239.95/mo
GigaTux offers a variety of dedicated servers, but we realise that each user's requirements are different. We ask that you contact us for a custom quote detailing your requirements. However, as a guideline, please see below for some example prices: