GigeNET
Address: 545 E. Algonquin road
Arlington Heights IL 60005
United States
Phone:800-561-2656
Fax:N/A
Your business requires more than just a server. You need a partner. GigeNET provides you with the tools and support you need to offload your IT requirements so that you can focus on growing your business and boosting your bottom line.
At the heart of GigeNET's offering is a philosophy for providing an unmatched level of customer service and support. When you place your hosting infrastructure in our hands, you are trusting that it will be handled with care and expertise. Your dedicated Gigenet support team is available to you around the clock, watching over your systems and ensuring that any issues are resolved quickly.
Accessibility to your servers and the websites hosted on them is crucial to your business. Since its inception, GigeNET has focused on providing 100% uptime across our entire network. By investing in proven technology from Cisco & Juniper and employing the brightest network engineers, we boast one of the best uptime records in the industry, and back it with a 100% uptime SLA.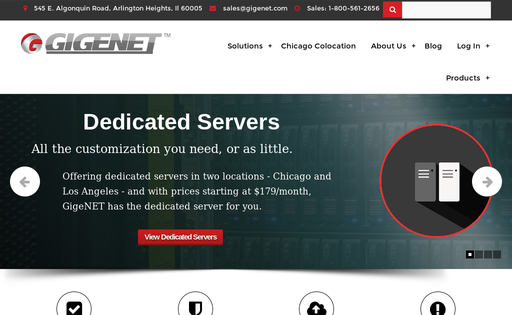 Dedicated Servers starting at $113.00/mo
GigeNET has been providing dedicated servers for more than 20 years. An industry pioneer with the first scalable DDoS Protection service, ProxyShield™, and the first to market with fastest-route optimized network technology for dedicated server hosting, GigeNET creates partnerships built on a powerful foundation of operational success and stability. Our customer-centric SLAs and veteran support techs (with over 5 years experience each) focus on keeping you online—so you can focus on your business.
Colocation starting at $135.00/mo
1U – 2U Secure Rack Space 25 Mb/s Unmetered on 1Gb/s Ethernet /29 – 8 IP Allocation 1 remote reboot power port $50.00 Per U One time Setup