global host
Address: 103 mithapur badarpur
delhi 110044
India
Phone:N/A
Fax:N/A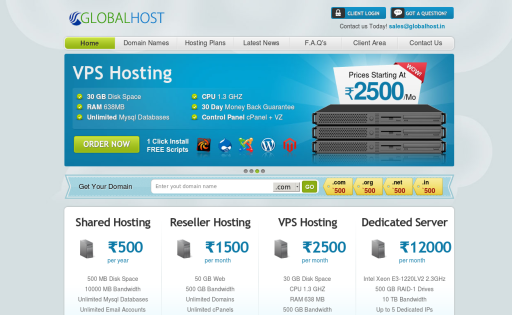 Shared Hosting starting at Rs41.58/mo
Domains: 1 Disk Space: 0.5 GB Bandwidth: Unlimited Control Panel: Yes Money-back Guarantee: 10 day
500 MB Web Space Unlimited Bandwidth 5 Email Accounts 1 My Sql Databas Free Domain Name - NO Free SSL - NO 10 Days Money back Guarantee - Yes
VPS Hosting starting at Rs1199.00/mo
VPS virtual private server is a virtual system. Virtual Private Server hosting, VPS hosting, is a website hosting environment that allows for resources such as RAM and CPU to be dedicated to your account at affordable price. You will be given root privileges on our VPS, allowing for easy installation of software packages that all run independently on the host machine. The ability to host multiple domains on one VPS account open's the door to easier website management. Configure separate / multiple Web sites, and mail addresses .
Dedicated Servers starting at Rs9999.00/mo
Global Host offer multiple core dedicated servers. Choose between self managed, core managed, and fully managed plans and get the best from dedicated server with high-powered hardware. You will get you there, with root access and SSD drives on top-of-the-line bare metal. Dedicated server provides the highest level of resource allocation, privacy, security and control. Dedicated server is a type of remote server that is dedicated to an individual, organization or application for high performance.