Global Internet Services, Inc.
Address: 123 North Congress Avenue, #185
Boynton Beach FL 33426-4209
United States
Phone:888-HOSTME-0
Fax:888-HOSTME-0
Global Internet Services, Inc. excels in providing quality shared and reseller hosting as well as domain registration services. We promise to treat you like one of the family with support and services tailored to meet your individual hosting needs.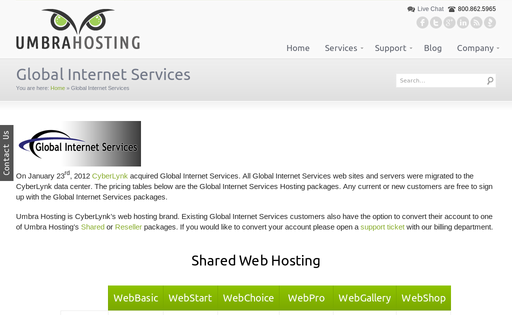 Shared Hosting starting at $6.99/mo
Domains: 1 Disk Space: 10 GB Bandwidth: 100 GB Control Panel: Yes Money-back Guarantee: 30 day
When you choose Umbra Hosting for your cPanel web hosting, your site will be hosted on High End Supermicro servers on our world class, fully redundant network, featuring tier one providers, BGP routing and High End Cisco Routers and Switches for the ultimate low latency high availability connection to your server. With our 24/7/365 helpful and friendly support staff, 99.9% uptime, feature-packed, affordable plans and 30 day money back guarantee, you can't go wrong when you host your sites with Umbra Hosting.
Reseller Hosting starting at $16.95/mo
10 GB 100 GB 50
VPS Hosting starting at $29.99/mo
60 GB 2048 MB 2,000 GB 1
Dedicated Servers starting at $50.00/mo
Celeron J1900 2 GB 2 x 1 TB Full 100Mbps 2 Feature List
Colocation
CyberLynk operates a world-class colocation facility, offering a broad range of services and managed options to support your IT needs. Understanding that even the most reliable datacenter environment is susceptible to failure, we have a team of expert technicians that act as your onsite hands and eyes to make sure you systems continue to thrive. CyberLynk sells our colocation and datacenter services through MilwaukeeColo.com. Colocation is bundled differently from provider to provider so its important to make sure your actually getting what you want. CyberLynk does NOT have hidden fee's and our service options are straight forward. We know whats it like to search for a good datacenter which is why our 'Free Remote Hands' option is unlike any in the marketplace today. If you already have colocation services with another provider you know how they charge you for every little task. CyberLynk will not do that. Our certified engineers will make sure your experience is the best in the industry. Milwaukee Colo is your one-stop shop for colocation services. Our datacenter is strategically located in the state of Wisconsin, where some of the world's most important bandwidth providers connect and exchange internet traffic, making the facility one of the best of its kind in the Midwest.