Hidora
Address: Rue des Charmilles 8
Geneve 1203
Switzerland
Phone:+41225521414
DevOps cloud hosting solutions for your business needs
With multipurpose cloud hosting and extensive IT experience we have the expertise to assist every business size.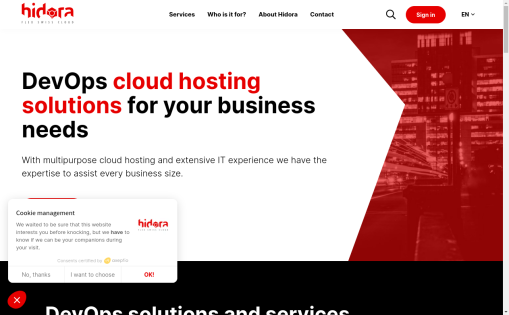 VPS Hosting starting at CHF19.00/mo
Hidora Cloud VPS Server setup with the required configuration and resources allocation takes some minutes. Monitoring and managing your cloud VPS has never been easier. All the necessary configurations, optimizations and changes can be done in a few clicks. Our experts will provide you with high quality migration assistance if needed.
Cloud Hosting starting at CHF2.20/mo
With Hidora Cloud Platform deployment of applications of any complexity is a no-brainer. A wide range of programming languages and certified technology stacks are available.