Host ASP
Address: 30/171 Mahatma Gandhi Road Kumaran Nagar Padi
Chennai 600050
India
Phone:917200662990, 18559555550
Fax:N/A
HostASP offering customers with Affordable ASP.NET, Linux based cPanel web hosting services and FREE domain name registration services. Our services include Shared Web hosting, Domain registration, SSL certificates and VPS hosting services.
Our company managed by group of senior software professionals experienced more than 8-12+ years in IT software and hardware industries and infrastructure management services.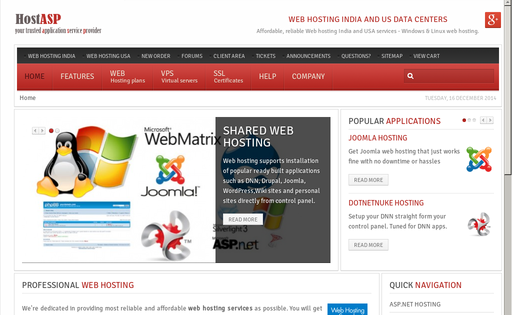 Shared Hosting starting at $1.00/mo
Cloud Linux hostingOur Linux web hosting plans are reliable and affordable, feature-rich Linux hosting platform that provide a powerful, and secure platform for web hosting services. Your web hosting with HostASP will be on Apache web server on CloudLinux Operating system. CloudLinux Operating System was designed specifically for Cloud computing, a great benefit that it adds to the shared web hosting services by isolating resources usages and is only commercial supported in market. All our Linux web hosting plans support hosting web sites with PHP, Perl, Ruby on Rails and MySQL databases on single hosting plan. We currently offer FREE SSL certificates on certain hosting plans and that you could use it for securing your confidential data or for e-commerce applications.
VPS Hosting starting at $25.00/mo
Affordable Windows Virtual Dedicated Hosting (VPS) with Hyper-V : We offer cheapest and reliable Windows Virtual private servers operate on Microsoft Hyper-V, a hypervisor-based technology that provides true Hardware Virtualization and High level of Isolation from other virtual machines on same physical dedicated server. On using this new Microsoft virtualization technology, clients no longer have to worry about their projects being affected by other resource-intensive websites or applications running on the same box. Now take advantage of our Microsoft .Net web based control panel - WebsitePanel to perform all most all of VPS management tasks online. Get VPS location, Operating system of your choice with VPS India or VPS USA. Starting as low as $25 per month FREE DNS Management Root/Terminal/RDP Access to the server Dedicated Memory & Disk space Install software at your choice. Dedicated IP's Host Unlimited Websites/Databases