Host Color
Address: 746 S Arnold St, IN 46619
South Bend DE 19801
United States
Phone:1-888-222-1495
Fax:N/A
Host Color LLC (DBA: Host Color, HostColor.com, Host Color Europe, HCE) is quality web hosting provider since 2000. The brand was originally established in Europe. In August 2003 HostColor.com was incorporated as Host Color LLC in the United States. Since then Host Color LLC is a Wilmington, Delaware incorporated, profitable private company which now owns a number of successful web hosting and website service brands.
Host Color's core infrastructure is hosted in a high-class data based out of South Bend, IN (90 miles from Chicago). It is strategically located in the Midwestern United States to ensure lowest possible latency to any point in North America. In this site the company operates a fully-redundant and concurrently maintainable IT infrastructure (including all capacity components) which theoretically guarantees 99.995% availability. Host Color uses multiple, independent distribution paths to its IT infrastructure. All equipment - Juniper routers, EX switches, Shared Hosting servers, VPS systems and all Dedicated servers are dual-powered.
HostColor.com operates an Autonomy System (ASN 46873) and own Internet Protocol (IP) based fully-redundant, high quality network through Level 3, Cogent and Internap (through Colostore), providing 100% network uptime SLA guarantee. It is load-balanced with no single point of failure, powered by Juniper routers and switches.
Host Color provides 24/7 non-outsourced support at 1-888-222-1495, support tickets (15 minutes response time).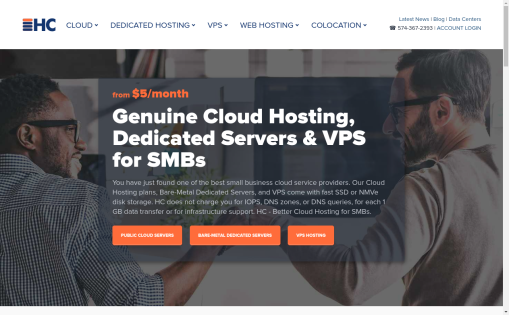 Shared Hosting starting at $29.00/mo
Managed Web Hosting Plans All Managed Cloud Web Hosting plans can be used as Managed WordPress Hosting accounts or as a hosting environment for any other LAMP-based Open Source CMS. All service plans come with 1 hour per month of technical and system administration. Compare specifications and choose yours.
VPS Hosting starting at $9.00/mo
HC delivers SSD VPS hosting services from its Midwestern U.S. data center. Get a Virtual Private Server that uses Samsung enterprise Solid State Drives with sequential read/write speeds of up to 560/520 MB/s and random read/write speeds of up to 98K/28K IOPS.
Dedicated Servers starting at $79.00/mo
All Linux and Windows Dedicated Servers hosted in Host Color's Midwest Data Center come with IPMI 2.0 (KVM over IP) remote management and are connected to 1 GigE physical ports on a fully redundant, SLA guarantee network, with North American peering. When you click on "Order Now" button, you will be take to a server customization page, where you can choose Midwest, East Coast, South-West or West Coast Data Center and configure your Bare-Metal Server to your exact specifications.
Colocation starting at $59.00/mo
Review our 1U to 4U Colocation services, compare plans & sign up. All servers and equipment are housed in our Midwest Data Center