HostaVPS
Address: 14 Clark Rd
Eliot ME 03903
United States
Phone:N/A
Fax:N/A
The philosophy behind HostaVPS is simple: Provide amazing enterprise level service backed by a powerful support team at an affordable price. Finding the right host can be difficult as you never know what you are going to get. We believe if you give us one shot that's all we need to gain you as a lasting customer. Stop searching, and start hosting with us, today!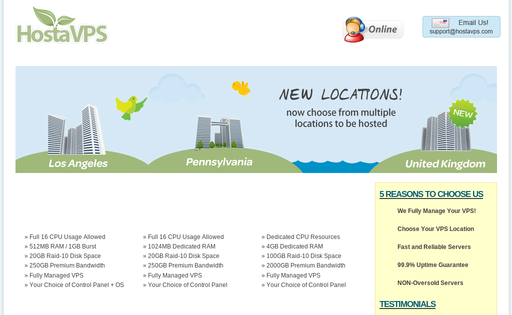 VPS Hosting starting at $20.00/mo
Virtual Private Server (VPS) hosting is the future of web hosting. A Virtual Private Server performs and executes exactly like a stand-alone dedicated server making it a perfect cost effective alternative to expensive dedicated servers. All our VPS plans are loaded with features, allow you complete control, powerful, and flexibility that advanced users and businesses desire. All while you're helping our planet at the same time!