Host.co.in
Address: Plot No.B-24 & 25 NICE Area, MIDC Satpur,Nashik-422 007.
Nashik 422007
India
Phone:18002126630
Fax:N/A
Host.co.in was established in 2005 with a vision of providing best in class yet affordable web hosting services and technologies to our customers in India and overseas. We are committed to providing highly reliable, transparent, secure and affordable hosting solutions to individuals and businesses.
Our team of highly qualified and motivated engineers, technicians and support staff are determined to make your hosting experience with us an unforgettable one. We believe in creating lasting relationships with our customers as building blocks of true growth and success. Our R&D team is constantly involved in upgrading and improving our processes and services to bring our customers the most innovative and effective services.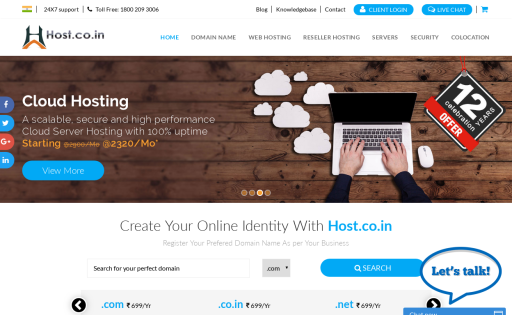 Shared Hosting starting at Rs125.00/mo
Linux Shared Hosting Plans Get full functionality and best value
Reseller Hosting starting at Rs1099.00/mo
India's Best Unlimited Reseller Hosting Provider Grow your business with our fine-tuned Linux Reseller Hosting
VPS Hosting starting at Rs999.00/mo
Fastest Linux VPS Hosting India with 24x7 Support India's best & high-performance Linux VPS Server backed with 24/7 Live Support for ultra-reliable, fully Managed VPS Hosting.
Dedicated Servers starting at Rs5500.00/mo
Dedicated Server Hosting Experience peak performance backed with 24x7 Live Support & Full Server Management.