Canada Wide Hosting Services Inc.
Address: 1500 - 701 West Georgia Street
Vancouver V7Y1C6
Canada
Phone:877-366-0516
Fax:N/A
A true Canadian web hosting provider offering Exchange Email Hosting, Email hosting. Linux Web Hosting, WordPress hosting, and BlackBerry services. We are audited by Public Works Canada to to Government contracts. Truly Canadian, 100% support in Canada. No outsourcing. No overselling. No overloaded servers.
THERE IS NO SUCH THING AS UNLIMITED HOSTING.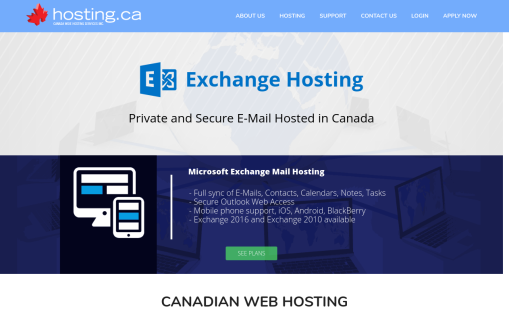 Shared Hosting starting at $5.00/mo
Web Hosting Open source powered by Qmail or Postfix distributions to handle secure POP, secure IMAP and secure SMTP. wordpress hosting WordPress Hosting Host your WordPress developed site with us. We have servers built just for WordPress. windows web hosting Windows Web Hosting Need ASP scripting, or MSSQL databases? We've done it, and have many versions available.