Hostinginchina
Address: 1612 B Block Xiahe Road
Xiamen 361000
China
Phone:+86-0592-3515979
Fax:N/A
Hostinginchina.com-13 year's experience with Professional China Web Server, Top Web Hosting service. Specializing in providing web hosting services customized for the Chinese market. We target two main group of customers: China-based companies and individuals who want domestic or international web hosting solutions with local support, and global clients targeting the Chinese market and therefore need a host and website design with chinese style that can guarantee access of their site for Chinese visitors.
We have multiple server location at all over the world: China (Shanghai, Xiamen, Zhejiang, Shenzhen), Singapore, US (Texas, California, New York), UK and so on. Both Windows and Linux plans are available.
Our focus is to provide high quality hosting services to business clients worldwide. Therefore we do not compete on pricing and all our plans are billed annually (which is the norm in mainland China). We now have Many customer all the US and UK, Spain, and get their great honor to us.Thank for our all customer.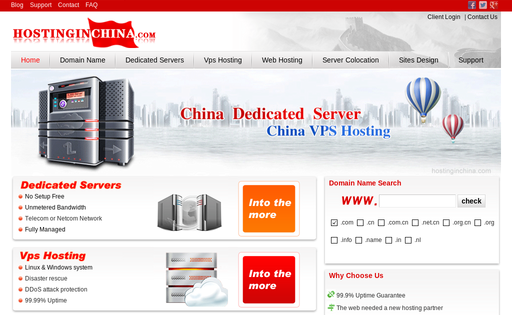 Shared Hosting starting at $59.00/mo
CN3GB 3GB Disk Space Unlimited Bandwidth DirectAdmin 5 MySQL Databases 5 Domains 5 Ftp Accounts
VPS Hosting starting at $96.00/mo
Hostinginchina.com provides VPS plans with servers located in mainland China,Hong Kong and United States.Both Linux (CentOS, Ubuntu, Debian,Red Hat) and Windows Server 2003/2008 VPS plans are available. Configuration China VPS Click Here>> Due to new regulations in mainland China, using our VPS to host a live website is now restricted to clients with a valid ICP license, or clients with a company registered in mainland China that can apply for an ICP license on their behalf, know more ICP license application.
Dedicated Servers starting at $119.00/mo
Basal - I Intel E5200 2G DDR2 160GB SATA2 1 IP Address Unmetered Bandwidth Telecom or Netcom $119 USD (monthly)