HOSTKEY
Address: Mir Telematiki Ltd.
Lva Tolstogo str. 19/2.
Moscow 119021
Russia
Phone:+7 499 246-3587
Fax:+7 499 246-3587
The Mir Telematiki Ltd. d/b/a HOSTKEY brand name, license for rendering of telematic services No.56755, a joint venture with foreign participation, since 2007 provides with services of servers co-location and lease, as well as with additional services based on the modern Russian and European data-centers with high quality of service and at reasonable prices.
There are many reasons why it is worth choosing us as your partner - it is the data-centers quality, team and managers qualification and skills, network reliability, high-class equipment and servers, while eventually it is our clients, who are the best underwriter of our success.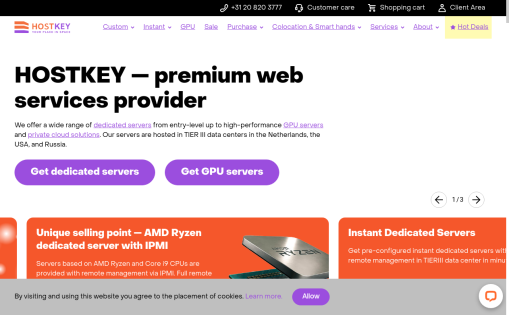 Dedicated Servers
Customizable Dedicated Server in the Netherlands, the USA and Russia. We are constantly upgrading our fleet of servers and parts. You can assemble an ideal custom dedicated server, including parts that will be purchased at your request. Top AMD and Intel processors, DDoS protection, excellent worldwide connectivity and 24/7 technical support — everything you require for the rapid growth of your project.