HostRomeo.com
Address: M-74, Poonga Nagar, Rajagopalapuram
Pudukkottai 622003
India
Phone:9600106540
Fax:N/A
Hostromeo.com has been commenced with a passion of love towards a moralized trade! Our trade ethics focus on what every customer would seek. Host Romeo does not have an extensive history steeped in, but we do have a legacy; we started in the year 2010. If having an old domain is purely enough to credit a company as being from an older hierarchy, then it's pointeless speak about ones heritage, isn't it? We are new but we aren't babies.
Our service related Operations are held at Bangalore, India, while our Headquarter is located at Pudukkottai, India and our Datacenters are sited at Dallas and Houston, United States. Our vision is to provide the best service possible and the best performance by there is no downtime for any of our client's websites. We strongly believe in the integrity within our team which creates unsurpassed outcomes for us and therefore our clients. Everyday we are working on the evolutionary parts of our existing software and hardware.
We need our customers to be freed from exhaustion at any cost. We do not overload or dump our servers with too many websites; We create a comfortable area for our customers where they will never face a downtime, aided with a lot of space to make the most of. Our minimum utilization of a heart(Server) makes our customers fall in love with Romeo for an exchange of heavy marginal expenditure!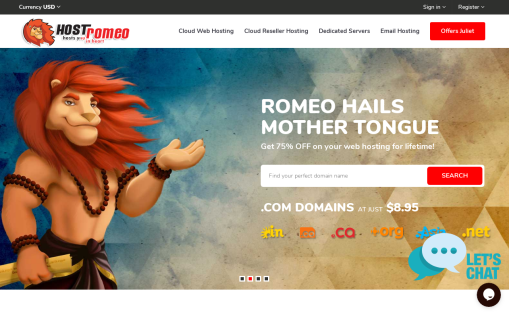 Shared Hosting starting at $3.95/mo
Domains: 1 Disk Space: Unlimited Bandwidth: Unlimited Control Panel: Yes Money-back Guarantee: 30 day
Single Domain Unmetered Bandwidth Email Scanner 447 Single-Click Scripts SitePad Website Builder Clamav Virus Scanner FREE COMODO SSL Certificate
Reseller Hosting starting at $69.95/mo
50GB Disk Space 500GB Bandwidth WHM Control Panel 30 cPanel Accounts Unlimited Domains SitePad Sitebuilder
Dedicated Servers starting at $199.00/mo
Core i3 Dual Core I3-4130 3.4 GHz 8 GB 1 TB SATA 20 TB