HostZealot
Address: 2 Lyuben Karavelov
HZ Hosting Ltd.
Plovdiv 4000
Bulgaria
Phone:+1.888.ZEALOT1
Fax:+1.888. 9325681
Our goal is to simplify life for projects that rely heavily on geographical diversity of hosting services. No matter if your project is big or small, if your audience is located far away or nearby, Hostzealot makes sure that your information is within reach.
Use HSTSRCH coupon to get 20% discount on our VPS offers (Hong Kong not included)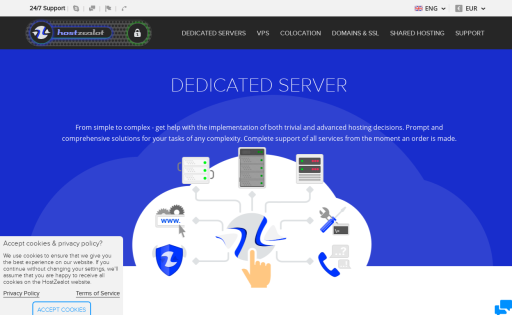 VPS Hosting starting at $4.18/mo
2 Xeon Cores 512 MB 10 GB SSD Unlimited
Dedicated Servers starting at $76.00/mo
Xeon E3-1241v3 4 32GB DDR3 (8*4) 2000GB (1000*2) SATA 1U SuperMicro (HDD number: 4)
Colocation
HostZealot provides a cost-effective solution with the added advantage of using hight level support service and protection of your hardware. We maintain a permanent connection to the Internet, guaranteed power supply required for the stable operation of server cooling equipment. Our Data Center specialists are here to recommend the best colocation space options and to ensure you with 24/7 support to help you build and scale your business. Also we offer efficiently cooled space with no risk of power outages, professionally secured against any physical damage or unauthorized access.