Ultimate Seo Services Ltd.
Address: 450 Lodge Avenue
Dagenham RM9 4QS
United Kingdom
Phone:N/A
Fax:N/A
InitHost is an internet hosting company with many years of experience in the field of IT technology. Take advantage of the latest generation of Dell PE and HP servers, Intel Xeon processors, RAID-10 arrays of high-performance SSD Hybrid drives and Xen virtualization. State of the art technology that suits every need.
**What can we offer?**
- Shared Hosting
- Reseller Hosting
- Virtual Private Servers (VPS)
- Dedicated Servers
- Domains
- SSL Certificates
- Corporate Hosting Solutions
- Quality and reliable services
- Adequate 24/7 support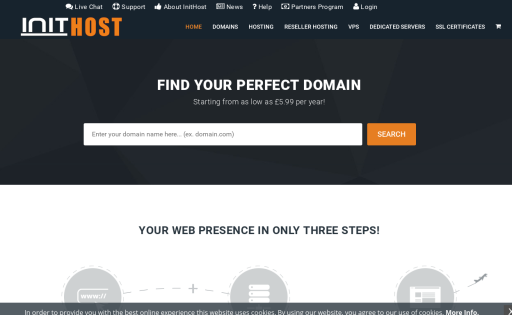 Shared Hosting starting at $1.50/mo
$2.60/mo when you renew 1 Website 5GB SSD disk space unlimited bandwidth get started