Ipxon
Address: 2637 E Atlantic Blvd #40652
Pompano Beach FL 33062
United States
Phone:+348887035375
Fax:N/A
Ipxon main development is PRESENCE, its a network of Point of presence in more than 20 countries in Latin America, where we are providing different services depending the location as VPS Servers, Hosting, Dedicated Servers, Colo, Proxy Servers, CDN Services, etc.
Also we are updating our cloud infrastructure with NVMe Disk (faster than SSD)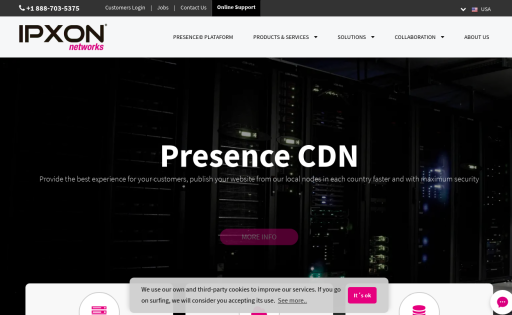 Shared Hosting starting at $2.50/mo
Quality, Personalized Attention and High Performance make all the difference. Hosting on TIER Datacenters Unlimited traffic, professional email, PHP, .NET, MySQL and much more... Autoinstallable applications: WordPress, Drupal, Moodle, Joomla, Prestashop.
VPS Hosting starting at $20.00/mo
Welcome to Presence© our powerful network in Latin America. Choose the location of your servers and remain close to your businesses at all times.
Dedicated Servers starting at $120.00/mo
Xeon E5-2609v4 8C/8T 32GB RAM 240 GB/SSD 500 Mbps (20TB) 1/IPMI 24 hs.