VPS Hosting Pakistan
Address: Office# 6, 2nd Floor, PakWay Plaza, Block N, Johar Town
Lahore 54000
Pakistan
Phone:+924235311959
Fax:N/A
I.web.pk is the name of trusted, reliable and affordable virtual private server hosting from Pakistan based location. we offer virtualization from Lahore and Islamabad cities in both Linux and Windows based operating systems through KVM virtualization.
You can view, compare and order any Pakistan based VPS here: https://www.i.web.pk/vpspk.html . After placing order and adding addons, proceed with payment using most reliable and widely available payment method "PayPal".
Your order will be received and will be processed manually and most probably, you will get credentials within next 24 hours or before. Usual provisioning time is about 5-12 hours. Our technicians may contact you before installation of they will need any further information about your server configuration before initiating installation process.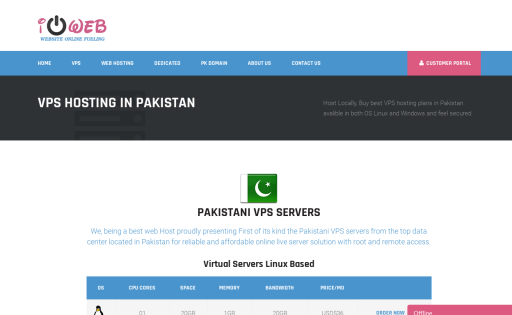 Shared Hosting
Low budget for web appearance? Doesn't matter. I.WEB.PK brings best web hosting plans that is affordable even for students. Cheap shred web hosting with plenty of dedicated resources and most importantly the 24/7 friendly hosting support are the ingredients of our budgetary hosting plans. Are you looking for cheap web hosting in Pakistan for getting initiative for starting a website, try our cheap shared web hosting plans in Pakistan. We are presenting quality web hosting services in Pakistan, we have 4 unique web hosting packages which can be utilized for four different nature of web hosting needs. Utilize our top level shared hosting services to run your blog, custom website, web portal, forum or shopping websites. It depends upon you what package you think well suit for your website and what operating system along with the hosting control panel will work for you but we assure you the quality of versatile hosting services with maximum convenient technical support.