JAD Web Hosting
Address: 100 South Belcher Road
Suite 100
Clearwater FL 33758
United States
Phone:866-303-3247
Fax:N/A
Serving clients worldwide since 1996, JAD Web Hosting has established itself as one of the best hosting and website design firms in the U.S.
We provide Shared Hosting, Reseller Hosting, Business Hosting, Virtual Private Servers, Dedicated Servers, Website Design, Logo Design, Search Engine Optimization, Remote Data Backup and many more solutions for individuals, families, organizations and businesses. We are an elite web hosting company and include a free domain name registration/transfer with all of our web hosting plans. The domain name included with your hosting plan is yours to carry on forever. Please take a few moments to look around our site. If you have any questions or would like to discuss your specific needs, please call us Toll Free at 866-303-3247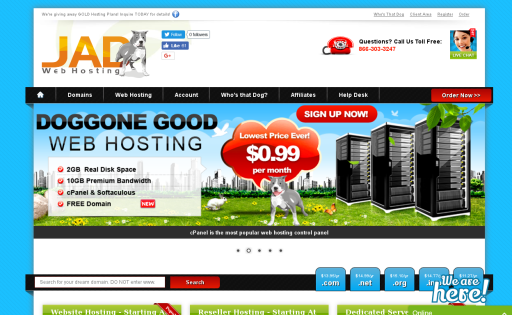 Shared Hosting starting at $0.99/mo
Web Hosting for Business. Web Space 2GB Bandwidth UNMETERED Monthly Price $0.99 /12mo
Reseller Hosting starting at $19.95/mo
TIN Now 33% OFF! 60GB 600GB $19.95
Dedicated Servers starting at $99.99/mo
BASIC Perfect dedicated server plan for beginners 1 TB (2 X 1 TB) 8 GB DDR3 ECC $99.99
Free Hosting
Very basic Web Hosting with email. Web Space 1GB Bandwidth 1GB Monthly Price FREE!