Kunshi Network LLC.
Address: 201, Porshi.
kewa para
sylhet 3100
Bangladesh
Phone:+88001713173600
Fax:03100
Carrier-class softswitch -Protocol support SIP/H323 -Excellent compatibility -Safe and reliable -Automatic CDR billing -Integration with other systems.
VOS3000 2.1.6.0 is the reliable softswitch in the industry. ItS safest version from other version of VOS3000. web : - https://kunshinetwork.com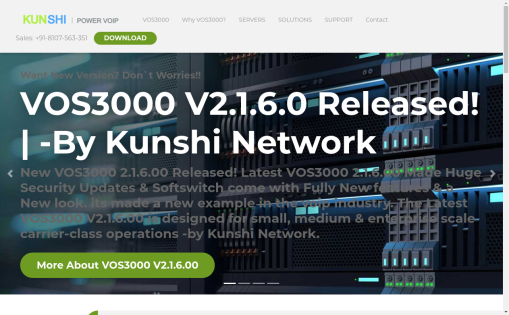 VPS Hosting starting at $39.00/mo
We Provide VOS3000 V6.00 SoftSwicth @Cheap Monthly Rent, VOS3000 is one of the best VoIP Softswitch around the world, Currently Version V6.00 Released 8th January 2018 -by kunshi Network. Its Most Stable Version from all Previus Realeased VOS Switch. Latest VOS3000 2.1.6.00 Made a new example in the industry, Most Secure Ever, Have Huge Security Updates, Complete Solutions for VoIP.