LeaseDedi
Address: LeaseDedi, Link Road - Model Town
Lahore 54000
Pakistan
Phone:0092-3213212324
Fax:N/A
LeaseDedi aims to provide a strong platform to provide hosting solutions of more than 25+ international countries, connecting the hosting world one point with the help our experienced high-tech staff.
In the last couple of years we have seen a lot of developments in the world of information technology. A lot of companies have come and gone since then, leaving you to pick up the pieces and find a new provider that can offer you a reliable and affordable solution. Our main goal is to provide you with a product and service that exceeds your expectations. Will it be with our pre-made packages or our customized solutions? We walk the extra mile for you. All of our services ensure you of a quality product, both reliable and secure.
LeaseDedi provides you a full suite of online solutions for your company or personal needs. We offer web hosting solutions for the people who have been striving in finding the reliable hosting provider, VPS Hosting for the popular websites & blogs, and Dedicated Servers over 25+ locations through-out the world. We bring together the services of multiple upstream providers, all in one place, with a single bill and a single control panel to monitor your entire fleet of services.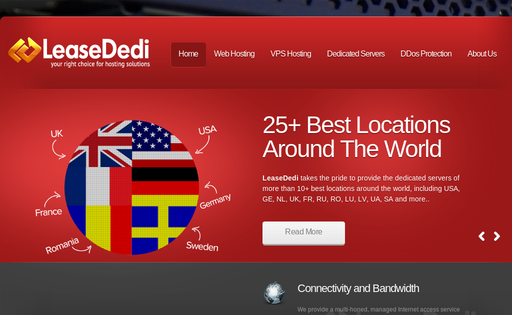 Shared Hosting starting at €1.50/mo
25 GB Storage 50 GB Bandwith / Monthly 5 Email Accounts 3 Addon Domains cPanel Powered Varnish+Nginx Google Apps Attracta SEO Tools CloudFare Softaculous Instant Setup 24/7 Technical Support
VPS Hosting starting at €6.00/mo
Virtual Private Server - virtual machine for use exclusively by an individual client. Although running in software on the same physical server as other clients virtual servers, it's functionally equivalent to a separate physical server. Virtual server is dedicated to the individual client's needs and has the privacy of a separate physical server. When virtual hosting is not enough and dedicated server is too much, the virtual server is exactly what you need.
Dedicated Servers starting at €45.00/mo
With a dedicated server from LeaseDedi you receive root access to a physically isolated computer system hosted at our DC's we are working with. We are offering you the finest hardware and connectivity at affordable pricing. Our (un-)metered series offer you a wide range of hardware configuration options and connectivity features. Take a look at our different options for dedicated servers and you will find a dedicated web hosting solution that will fit your operation.