uGottaHost Cloud Web Hosting
Address: Prince Charles Dr.
Monastery Park
Nassau SS19161
Bahamas
Phone:12424687641
Fax:N/A
uGottaHost Cloud Web Hosting Services
If you are looking for a stable web hosting service provider, then you have come to the right place.
At uGottaHost.com cloud hosting plans provide you with an amazing value for your money. Our SSD–powered servers can help your websites operate far better than those of the competition.
Furthermore, you'll be able to make your sites way quicker with just a couple of mouse–clicks when using the web accelerators included in our simple to use Control Panel, and maintain your data secured through the ZFS–based file storage and ModSecurity firewall used on our platform.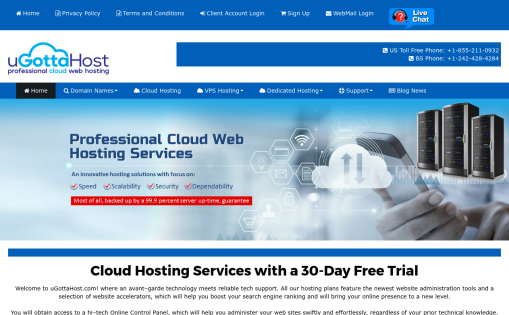 Shared Hosting starting at $8.75/mo
Domains: 1 Disk Space: Unlimited Bandwidth: Unlimited Control Panel: Yes Money-back Guarantee: 30 day
Web Hosting with a 30-Day Free Trial We offer you affordable web hosting, domain name options and FREE marketing and web content options for both individuals and businesses. With our easy-to-use Web Hosting Control Panel you have full control over your websites. You can choose from several carefully set-up offers coming with multiple versions of PHP (PHP 4/5/7) plus the latest stable versions of MySQL and PostgreSQL.
VPS Hosting starting at $12.00/mo
With uGottaHost.com, you can easily administer an OpenVZ virtual private server. Our virtual private servers offer a 99.9 percent uptime guarantee. A 24-7-365 customer service is available as well. With our free-of-cost, user-friendly Hepsia CP, you will be able to efficiently manage both your web site and your VPS server. Each of our virtual private servers also is loaded with lots of charge-free bonuses.
Dedicated Servers starting at $80.00/mo
Our affordable dedicated web hosting will give you with unmetered website hosting resources for reaching complete software & hardware freedom in keeping your ever-growing online presence. You will have under your control a whole stand-alone server, with a robust hardware configuration and excellent network characteristics. Each setup offers an choice of a Linux distribution and full root access to the server. This way you can install and configure any software you need. You could also select our advanced Control Panel - the Hepsia Control Panel. cPanel and DirectAdmin installation is also present.